Why Duct Leakage Testing is Important In Pennsylvania, New Jersey and Delaware 
States and municipalities have adopted the 2015 IECC, International Energy Conservation code for single family buildings and the 2018 International Energy Conservation code for multi-family buildings. The change will have some significant implications for home builders and HVAC contractors operating in the state.
A Duct Leakage Test as well as a Blower Door Test in newly constructed or remodeled homes is now required in accordance with the 2015 regulations.
Did you know that ducts are among the biggest contributors to air leakage in homes all across Pennsylvania, New Jersey and Delaware? Leaked air can raise your energy bills, strain your HVAC system, and spread insulation and dust throughout your home. This makes duct leakage testing crucial for new and old homes alike. Keep reading to learn why duct leakage testing is important and how you can benefit from them.
How a duct leakage test is conducted
To begin a duct leakage test, your technician will seal off all your registers except for the one central return or the air handler. Then, a specially calibrated fan called a duct blaster will be placed around the opening. The job of the fan is to depressurize your vents, creating conditions for tracking leaked air. 
The calibrated fan is used in combination with a pressure sensor to track air leakage in your ductwork without having to disturb or damage property. A duct leakage test, also known as a duct blaster test, will tell you where your ducts are leaking air and inform you on the best approach for sealing it.
Duct leakage testing doesn't take a long time and is non-intrusive to residents in the home. Your test can be completed in as little as 30 minutes to an hour, but the benefits will last for years.
How to measure duct leakage
A duct leakage test is scored by cubic feet per minute (CFM) for every 100 square feet of conditioned space. Your technician will use an instrument called a nanometer to measure slight pressure changes, indicating the extent of air leakage in your ducts. Knowing this number is essential for determining where leaks may be, what improvements you can make, and whether your home complies with municipal energy codes.
Cost of excessive duct leakage
If you notice signs of duct leakage like high energy bills, uneven heating and cooling, or the need for frequent repairs, then a duct leakage test can save you a lot of money and time. A typical home loses 20 to 30 percent of the air that moves through its ducts. It doesn't matter if the weather is cold or hot. Duct leakage will always cause higher energy bills and inefficient heating and cooling.
Leaks also make your system work harder than it needs too and the more you overwork it, the more likely you will need to pay for repairs and services to keep it running. Sealing your ducts is a great way to keep the long-term health of your HVAC system running smoothly for many years.
Duct leaks can also let in outside contaminants like mold, dust, and excess moisture. It can aggravate allergies for people living in the home and even lead to expensive property damage from leaks in your ceiling and behind your walls.
How to properly seal ductwork in an old home?
2015 IRC/IECC requires new homes to have comprehensive duct sealing using the latest energy-efficient techniques and materials. This includes mastic, tape, and insulation. But how do you get to the holes you can't reach?
Aersoseal Technology is one way you can reach holes in your ducts deep behind your walls and ceilings. To do this, all your vents are sealed off except for one opening. Your HVAC system is also sealed off. Then, a machine is fixed to the opening and repressurises your ductwork, adding a fine aerosol sealant into your system. 
This will seal any small holes between joinery that you can't physically get to with traditional mastic and tape. But if a hole is too big, this method will not work. The technician will also take a duct leakage test before and after adding the sealant to measure the treatment's effectiveness.
Common areas of duct leakage
The number one place air leaks from your ducts is through the joints. Ductwork has a lot of metal to metal pieces pressed together with tight fittings and the help of metal bands that wrap around these areas. This does not give you an air-tight seal.
Periodic heating and cooling from the weather and demands on the HVAC system cause your ducts to expand and contract. This eventually leads to loose joinery and gaps between your ducts, making a duct leakage test a good idea for new and old homes.
Many energy auditors simply feel around your ducts, using a pen or a screwdriver to test the width of gaps between joinery. If your ducts haven't been sealed with mastic and tape, then you may have a duct leakage problem.
What is an acceptable amount of duct leakage per energy code?
To receive a passing score, your system should measure under 4 CFM per 100 square feet with the air handler installed or 3 CFM without the air handler installed. New homes must have a duct leakage test with a passing score to receive an occupancy certificate.
If your home doesn't pass a duct leakage test, it means you are spending more than you need to on energy bills and you could be doing long-term damage to your HVAC system. Passing a duct leakage test with 3 to 4 CFM is not just important for compliance; it's also essential for protecting the integrity of your home, joining statewide efforts to reduce energy consumption, and making home more comfortable for everyone.
Your technician will also give you expert advice on improvements you can make to pass your duct leakage test, so either way, you come out with an actionable plan to make your home more energy-efficient.
How Much Does a Duct Leakage Test Cost?
For residential customers we price the duct leakage test at $390.
For contractors we price the duct leakage test at $350 for one single home. That includes the test and the certificate you'll need to present to the building inspector to close out your permit. For a duplex the price is $600, for a triplex the price is $750. 
If you are looking for multi unit testing for large project 4 tests to 300 we will bid the project to achieve a price which is comfortable for you.
Local Energy Audits
— affordable duct leakage testing in Pennsylvania, New Jersey and Delaware 
Local Energy Audit is proud to serve customers in Southeastern Pennsylvania, New Jersey, and the Delaware. We specialize in detecting air leakage and spotting energy inefficiencies in and around your home, using blower door tests and duct leakage tests. If you're building a new home or just want to make energy-efficient improvements, call us during our regular business hours or contact us online.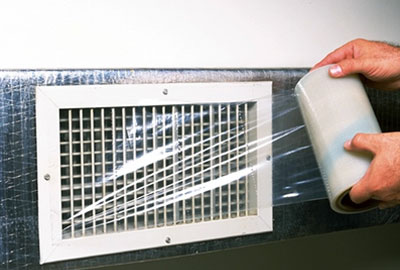 A duct leakage testing begins by sealing all the ducts and registers with duct mask tape on both the supply and return side.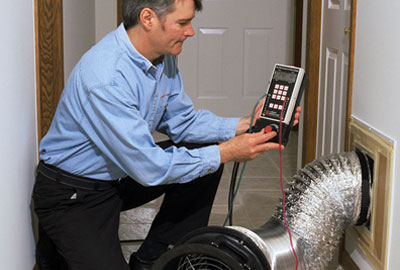 After the registers are sealed we attached the duct tester to either the unit itself or a main return.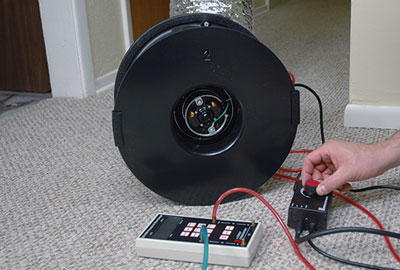 The ducts are then depressurized to a Pascal of 25. With the ducts depressurized we can use the nanometer to get a reading of the duct leakage.